Should you use Trello to organise your family history?
Today I want to talk about the project management software Trello and why it's a fantastic tool to use to organise your family history.
Before I get into all the things I love about it (and a couple I'm not so fond of), let's backtrack for a second. First, you might be wondering what Trello is and what project management software has to do with tracing your ancestors through history.
Trello is a visual, list-making application that helps you manage your projects and organise anything. It's easy and cost-effective to use (more on that a bit later), customisable and available on any computer or smart device.
It's great for collaborating on projects with a team or perfect for keeping you accountable if you are working by yourself.
Using Trello is similar to working with sticky notes organised in columns on your wall and as satisfying. It's software that is:
flexible (you can move things around as you need to).
visual (you see almost everything in one glance)
portable (you can access it on any smart device or computer)
shareable (you create teams to share your project with other collaborators)
customisable (you create each board in the way that supports you the most).
No, this article isn't sponsored by Trello, nor am I an affiliate. However, I really love the software, and using it has positively impacted my genealogy journey.
The basics of Trello
Firstly a little bit about Trello how Trello works in case you aren't already familiar with it. Trello uses workspaces, boards, lists and cards to help you get organised.
There are other features available via Powerups and the premium subscription, which we won't discuss in this article. Instead, let's keep things simple to show how much you can do for free.
This article won't go into how Trello works but will describe some of the features and how they can be explicitly used for family history. Search the Trello help centre for tutorials that explain how to open and close cards, lists, boards, and workspaces.
So, back to the basic functionality.
Cards are the tool you'll use the most; these live on lists.
Lists are to group the cards together and live on boards.
Boards are your virtual pin, and they live on a workspace.
Workspaces are the containers that keep everything together.
Workspaces
A workspace is your filing cabinet where you keep all the boards used to organise your family history. Each workspace can hold 10 active boards simultaneously, and you can archive older boards to add more.
Workspaces can be shared with others or be private for your use only. There is no limit to the number of people you can invite to share a single workspace. Nor is there any limit to the number of workspaces that you can add to your personal account.
Boards
Boards are your virtual desktop on Trello, where you'll keep the lists, cards and their contents. It's like a pinboard or whiteboard where you add photos, lists, and notes or anything that you want to keep on display and easy to find when you need it.
The board view provides an at-a-glance overview of the project or workflow you are tracking. You can allocate boards to different functions you perform in your family history.
As I mentioned earlier, you're limited to a maximum of 10 boards per workspace, so you may need to create multiple workspaces to meet all your needs.
Lists
Lists are columns that group together tasks, processes, and other information. You can use lists sequentially to create a workflow or as categories to keep track of similar ideas and data.
You can create as many lists as you need per board; there is no limit. They can be arranged and titled as you like and copied or moved to other boards.
Cards
Cards are the sticky notes of Trello. These are small but mighty tools that you'll use to do all the heavy lifting. As mentioned earlier, cards can contain notes, checklists, comments, and attachments such as documents, images and spreadsheets.
You can customise them to suit the purpose of the board and the content you're adding. Drag and drop the cards between lists for workflows or copy them as templates for similar content.
Best of all, there's no limit to the number of cards you can add to each of your boards.
What does project management software have to do with family history?
If you're anything like me, then being organised isn't something that comes naturally to you. Maybe you don't think it's necessary or are reluctant to create systems and processes because it takes time away from your research. I was the same. In fact, for years, I focused only on discovering as much as I could about my family. Behind the scenes, things were a hot mess. It never occurred to me that the processes and systems I avoided were necessary to make research sessions easier.
Project management software can help you plan, organise, manage and track your genealogy research and other family history related projects. It can also be used to collaborate and communicate with others.
These reasons, plus the visual aspect of Trello and the program's versatility, make it a great resource to use to organise your family history.
Genealogy is a hobby with a lot of moving pieces. I'm not referring to the discoveries you make, such as photos, historical records, stories etc. I'm talking about the:
tools and resources you use
processes you follow
methods you employ to track down and keep track of your ancestors.
It starts out with a couple of worksheets and gradually builds up to include dozens of websites, contacts, checklists, and many other bits and bobs.
Phew! It's exhausting just to type about it.
Yes, you can manage the websites with bookmarks, contacts in your email address book, and everything else in folders on your computer or the cloud. Not the most portable of systems and may be hard to quickly share with others.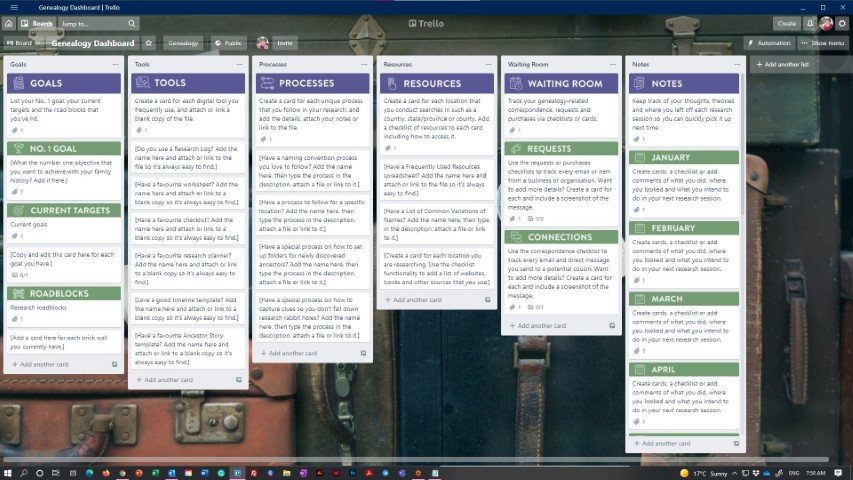 What project management software, like Trello, does well
Trello can be your one-stop shop for all these things. It's accessible on any smart device via an app or your favourite web browser if apps aren't your thing. That means you can log into it anywhere – the library, Great Aunt Dolly's house, the archives or when you have that epiphany about your 3x Great Grandfather while grocery shopping.
It's customisable, so you set it up the way that works best for you. Plus, it's incredibly flexible. Use it to create checklists, attach files from your computer, Google Drive, Dropbox, Box or One Drive, or leave notes of your progress, thoughts, and theories.
You can also easily share boards when collaborating on a project and close that board or remove access when done.
The best part is that it is free to use unless you plan to take advantage of any premium features. You don't need any of those to create a simple, easy-to-use system that will support you in your family history research.
What's great about Trello
Teams — Create teams to collaborate on various genealogy-related projects such as research, writing or even planning a family reunion.
Labels — Add colour coded tags to the cards to show hierarchy, priority, activity, or another category that you want to capture visually.
Card covers — Attach an image and use it as a card cover to visually break up the board and create a hierarchy within the content.
Unlimited team members, workspaces, lists and cards. The only limitation is the number of boards you can add to each workspace.
Share workspaces or individual boards — Love to work with others? Trello has your back and makes it easy to share your projects with collaborators.
Checklists — Add multiple checklists to individual cards to make it easy to track tasks or make lists.
Versatility — Create boards for whatever type of content you want
Flexibility — Reorder lists on your board, drag and drop cards between lists and you can even move cards and lists between boards.
Portability — Access your Trello account via the smart device app or your favourite web browser.
Limitations of the free account
Limited to 10 boards per workspace
What are the costs to use Trello to organise your family history?
The good news is that Trello offers a free plan with many fantastic features, even if you are planning on working with a team.
The free plan is more than enough for your family history needs, even with the limit of 10 boards per workspace. Of course, you can also add more workspaces if you need to.
16 Trello board ideas to organise your family history
We've established what Trello is, and you have an idea of how it works. So now it's time to get creative and brainstorm the ways that Trello boards will help you plan, organise, manage and track your genealogy research and other family history related projects.
1. The Family Tree Board
Use Trello to create vertical family trees with multiple generations. Use card covers or labels to show the relationship hierarchy at-a-glance.
2. Research log
Set up a workflow on Trello to track your research progress and discoveries.
3. Weekly planner
Use Trello as a digital planner to create and track your to-do lists for genealogy-related non-research tasks.
4. Family history book project plan
Trello is great for planning big projects like a family history book because you get an overview of what needs to be done and use labels or card covers to prioritise the different tasks.
5. Frequently used resources
Save the reusable lists like the location-specific resources (e.g. websites, books etc.) you use in your genealogy research to a Trello Board.
6. Genealogy toolkit
Completely customise the board to suit where and how you do research. The ability to attach files from your favourite cloud storage means you can add all your tools, so they are always right at your fingertips.
7. Contacts
The simplicity of Trello cards makes it a great solution. It's easy to edit the cards and move them around if you need to reorder things. Plus, you can move older information from description to comments, so you always have a record of it.
8. Correspondence tracker
Hello Trello! You can create a visual board with multi lists and colour coding to quickly track your genealogy correspondence regardless of your app to send it.
9. Genealogy process manual
A Trello board is a great way to create a simple wiki to keep all your processes and procedures for different apps and locations right at your fingertips when you need it.
10. Family History reading list
So many things to read and so little time, right? Use Trello to organise your family history reading list and track all those TBRs.
11. Family reunion event plan
Great for collaboration, keeping the details organised and knowing who is doing what.
12. Genealogy milestones
Keep track of all the fantastic milestones you have on your genealogy journey. Found your 1000th ancestor? Add it here. Spoke at your first family history conference? Capture the memory.
13. Family history blog management
Are you managing a Facebook group, publishing a family history blog or newsletter alone or with others? Trello is made for teamwork and workflow management, so you stay on track with your posting schedule.
14. Genealogy road trip planner
Road trips can require detailed planning, particularly when you want to see specific places. Get your schedule in order and use Trello to create your itinerary. You can add all the details you'll need on the road and be able to open it on any device while you're away.
15. Genealogy requests/purchases tracker
Do you go through bursts of ordering copies of certificates and documents online, then promptly forgetting about them? Use Trello to keep track of what you ordered, when and from where.
16. Occupation wiki
Turn your Trello board into a wiki with all the different occupations you come across in your genealogy research. Include a description of each job, what it typically would have paid and the tools your ancestors used.
Using Trello to organise your family history
Trello is one of many project management software apps on the market, and it's not the only one with a versatile free plan. However, I believe it has the edge for being visual, easy-to-use and quick to customise.
It's the ultimate sticky note organisation system. It has all the flexibility (and enjoyment) of adding notes to a list on your wall and the added advantage that they'll never fall into a scattered mess on the floor.
Any organisation system will require a time investment to set up, but once it's running, you will reap the benefits by having data that is:
at your fingertips when you need it, wherever you are
easily searchable so you can find what you need fast
customised to the way you work rather than you trying to hack someone else's system.
Share your thoughts
Share your thoughts on this article in the comments below, and let me know what you think about using productivity software to organise your genealogy.
If you liked this article, be sure to check out:
Products you'll love.