Customise your Genealogy Toolkit framework with this three-step system
Genealogy Toolkit — what do those two words mean to you?
Maybe you've never heard the term before, don't see the point of them, or think they're only for organised people. Perhaps you created one once but never looked at it again. Or you have one and think it's the best research sidekick you've ever had. Whichever category you fall into, you aren't alone. #beenthere
Productivity, organisation and finding my ancestors haven't always gone together for me. In fact, for years, I focused only on discovering as much as I could about my family. So it never occurred to me that processes and systems were necessary and would make research sessions easier.
Sound familiar? Maybe some of these will as well. Hands up if you've:
Never changed the file name of a download, whether it's "US-1Spouse-8Children", "Download 2", or "Worksheet-200303-210527."Ÿ
Reused worksheets by typing over old data and occasionally missing a field or two, so things get pretty confusing down the track.Ÿ
Didn't save a copy of the recycled worksheet, so I lost all the previous content.Ÿ
Saved files in various locations and can't quickly and easily retrieve what you want. Oh, and you can't search for it because you never changed the file name, and it's possibly called "famgrec(6).pdf". Or is that famgrec(3).pdf?
Didn't bookmark handy websites that you want to revisit and subsequently can never find them again.
I can put my hand up for every single one of those. I was wasting at least one-third of every research session trying to find where I'd saved things like the file I was working on last time.
Learning about and then creating a genealogy toolkit was my first step in taking my "system" from hot mess to simple, supportive and easy-to-manage. 😉
A genealogy toolkit is a collection of frequently used family history tools, resources, and processes kept together for easy access.
Let's take that one step further, though, and call it your "Genealogy Hub" or "Dashboard", which you use to manage your family history research and storytelling. Now that sounds pretty handy to have.
Most of the people I talk to didn't intentionally take up genealogy as a hobby. Instead, it was something they fell into after following through on a quest to find the answer to a mystery. Or to prove a story right or wrong.
And honestly, that's how most people start a hobby. You get curious and want to try something for yourself—something that you've never done before. Maybe you can picture yourself:
gifting hand-knitted jumpers during the holidays
sharing home-baked sourdough bread with your family
painting watercolour cards to sell on Etsy.
Maybe you take a class, maybe you don't. But you do buy the tools you need (knitting needles and wool, flour and baking tins, paintbrushes and paper) to get started. And you probably keep these tools together in one place, clean and ready to use. So when you next have time for your hobby, you know where everything is.
Seems sensible, right? And it makes sense to do the same thing for every hobby you have, including genealogy.
A Genealogy Toolkit (or dashboard or hub) will save you time for every research session. As a result, you'll get research sessions underway faster and improve your skills more quickly. Now, who doesn't want that when it comes to their family history?
Creating your Genealogy Toolkit
To make it worthwhile, you'll want to create something customised to who, where and how you research. The who and where of your research is based on your unique family history. The how is personal preference and style as everyone processes information in different ways.
What your toolkit looks like will depend on how you work. Typically it will be digital, though you may choose to print out some or all the items.
It can be a:
Ÿfolder structure on your hard drive or cloud storage
dashboard in project management software
Ÿlist of links in a Microsoft Word or Google Docs file
Firstly, you'll create a framework by deciding the broad categories of what you'll include. Then look at the contents and split them out into the relevant categories. Finally choose where your toolkit will "live" (tip: it should be an easily accessible location so you can use it every research session).
Creating the framework
A framework is a structure designed to provide support and focus. Therefore, making it easier for you to use what it contains. In this situation, the framework will be the categories you use to group the contents of your toolkit. As well as the primary tools, resources, or tasks that you perform frequently.
For example, I have six categories in my toolkit, so everything I use or do falls into one of these. I determined the categories by looking at who, where and how I research.
Goals
To remind me of what I want to achieve, making me less likely to wander off down a random rabbit hole.
ŸTools
A blank master copy of every template, worksheet, chart, checklist, and cheat sheet that I use in my research.
Processes
All specific processes used to access, save or review information.
Resources
Lists of all the websites, books, and other resources I use in my research.
ŸWaiting Room
How I keep track of any documents I've requested or correspondence I've sent to relatives or others searching for information.
Notes
At the end of every research session, I write a summary of what I did, where I looked and what I intend to do in the next session. It makes it faster to get my head in the game as I can see what I thought the last time.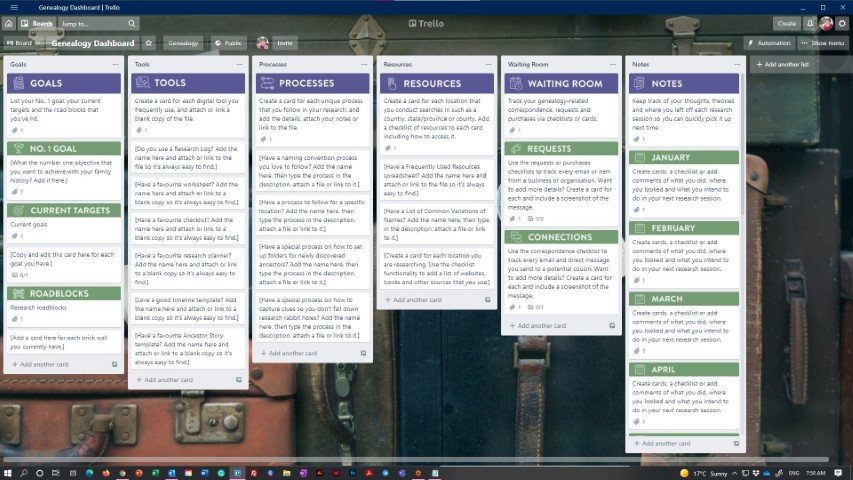 Tools and Resources are the foundations of a genealogy toolkit, but other categories are up to you. It's your genealogy toolkit so customise it to suit the way you research.
Not sure what to include? Firstly, do your due diligence on where and how you research. Next up, capture other frequently used tools, Lastly, define your categories
1. Do your due diligence on where and how you research
You will need to invest a little time up front to save it later. Set your timer for 25 minutes (5-minutes per question) and write (or type) your answers to the questions below.
What questions do you typically aim to answer in your research?
(e.g. marriage date and location, spouse name, residential address, date of birth etc. This determines which resources you'll use and what tools you need.)
Which tools do you use?
(e.g. research log, individual worksheet, census form, timeline etc.)
How do you use each tool?
(e.g. do you fill in the forms, use them as a checklist etc.)
Where do you search?
(e.g. England, New Zealand, Canada etc.)
What resources do you regularly use?
(e.g. Ancestry, vintage newspapers, births, deaths and marriages index etc.)
The next step is to keep a notepad handy during two to three research sessions and capture the answers based on what you do each session. You'll now have documented where and the way you research. Next, use this information to collate the contents of the tools and resources categories of your toolkit.
2. Capture other frequently used tools
Research aside, what other things do you do when it comes to family history? Try a 5-to-10-minute brainstorm or write down everything you do during two or three sessions.
Some ideas to kickstart your brainstorm include:
set and review goals
track your requests and correspondence
transcribe documents for genealogy websites
publish a family history blog/Facebook group/YouTube channel
moderate a genealogy forum
write a family history society newsletter
This list is a small sample of the type of tasks that you may need or want to monitor. The key denominator is that it's a regular task you do, and there is information, templates, or websites that you need to keep close to hand. After all, the genealogy toolkit is a collection of tools, resources, and processes you frequently use.
3. Define the categories of your genealogy toolkit
The last step is to review the results from the previous steps. Then you create and populate your genealogy toolkit.
Aim for 5 to 10 categories and use sub-categories where it makes sense to do so. For example, if you use specific resources for different countries, then you'd list those countries as sub-categories of resources.
Remember that what you decide isn't set in stone, and you can adjust the structure and contents of your toolkit as you need to.
Using your genealogy toolkit
Your genealogy toolkit is a hub or dashboard of information that makes your life easier. Once it's set up, it should save you time because everything you typically need for each research session is at your fingertips.
Take some time to review the tools you have and whether or not you use them in your research. Set yourself up for success by only keeping blank forms or current lists on hand. You don't want to spend precious time deleting data from your last research session. Or even worse, saving over the top of something that you spent hours on and don't have another copy.
Create lists of frequently used resources for each location you search in so you'll know what to do the next time you're chasing an ancestor in the same spot.
Share this article with someone who could use help organising their genealogy tools, resources and processes
Share your thoughts on genealogy toolkits in the comments. Are you inspired to create one or update your existing genealogy toolkit?
More from The Creative Family Historian
If you liked this article, be sure to check out:
Products you'll love.