When Is The Best Time To Write Your Ancestors Epic Life Story?
Art of Family History | Episode #028
A popular question to pop up in my inbox is when do you have enough information to start to write your ancestors stories. Is one discovery enough? Two? Ten?
And this is family history that we're talking about. We both know that when it comes to genealogy research you don't always know when you'll find out something new. So maybe you'll discover more — a lot more — and it certainly feels like you're hot on the trail of some incredible stories.
Plus time is precious. You don't want to waste energy and effort writing engaging anecdotes that need to be rewritten because you discovered the important details down the track. That's time you could dedicate to your research to find out more facts, and more ancestors.
In episode 28 of the Art of Family History, I'm sharing my thoughts on writing as you research, and how to use this process to benefit both your discovery and storytelling journey.
Join me to find out more of my thoughts on the :
the no.1 rule when writing a family history
story snippets – what are they and why you should create them
sharing your genealogy journey inside an ancestral story
the best formats for sharing research discoveries.
Are your writing fingers ready? Let's dive in.
Click the image below to watch the video now.
Looking for the transcript? Scroll to the end of the article for the link.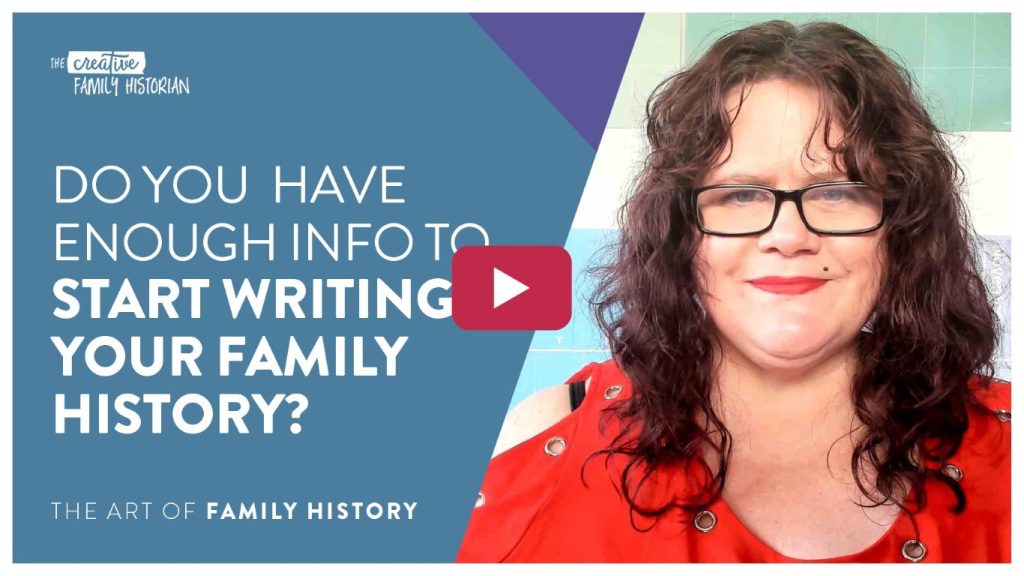 Like, Subscribe & Comment on YouTube:
"Prudence shares great tips that help bring my research to life." <— If you think along those lines, please consider liking my videos and subscribing to my channel. This step helps more people — just like you — find my content to support them in bringing their family history to life. Click here to view this episode on YouTube, where you can like, subscribe and leave a comment to let me know what you loved most about the episode!
Once you've subscribed, consider hitting the notification bell to be the first to know every time I upload a new video.
Links I mentioned to help you write your ancestors story:
Other ways to enjoy this episode: